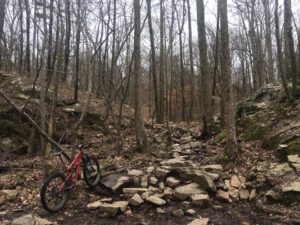 This is the first time I've been to Alabama and it was a great time! I learned that Alabama is a solid riding destination for serious mountain bikers like me. Being about an 8-hour drive to get there, it was the perfect weekend trip. I was mainly in search of warmer weather and dry trails. That is just what I found at Coldwater Mountain and Oak Mountain. Both parks I visited had great maps and were well marked. The best part of the rides were the rocky trails. Rocks are fun! Not to mention the weather was great. With temperatures in the 70s, I could wear shorts. It was great to escape the Indiana winter for a warmer getaway.
Coldwater Mountain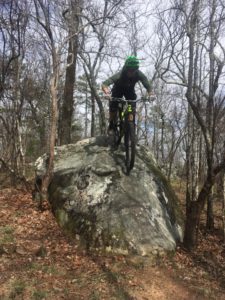 The trails are open for both mountain bikers and hikers at Coldwater Mountain. The park is free to the public and is open 365 days a year. The gates close shortly after sunset. It was about an hour east of Birmingham – 60 miles total from the city. This park was not very busy but that may have been because of the difficulty level of the trails. In addition to there being fewer visitors, there were also fewer amenities. There were not bathrooms at trail heads, nor were there water fill stations. IMBA labels it as a "silver level ride center." I would suggest these trails for the intermediate to advanced mountain biker. There were some big rocks with higher elevation changes and it was a fun ride.
"Bomb Dog!" was the phrase of the weekend because that was the name of one trail I rode. Check out descriptions of all the trails at Coldwater Mountain on the Northeast Alabama Bicycle Association website.
Oak Mountain
Being about a 30-minute drive south of Birmingham, Oak Mountain is conveniently located. There was a $5 fee per person and it is open 7am to 5pm. It seemed to be a popular destination because the park was pretty busy. There were lots of families with children out. This park had lots of other activities available including horseback riding, zip lines, and golfing. It also had on-site camping was also available with bathrooms and water. There was even a lake with a beach and kayak rentals.
The mountain bike trails at Oak Mountain were not too tough but there were lots of fun rocks to ride on. Because there were lots of hiking trails and some passed over mountain bike trails, I had to be on the lookout for hikers. There were not only mountain bikers, but also many road riders out. This park is very versatile and family friendly!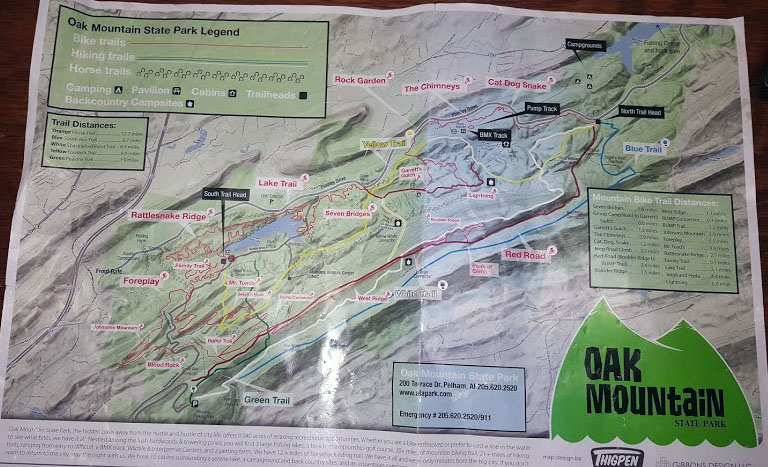 While Alabama is a great destination for Indiana's off season, I wouldn't want to go in the summer. It would simply be too hot. Good for our off season. If you have questions about where to go ride, ICS has info on both local and destination spots that are great for a weekend trip.