Blackburn design has some handy bags for you, the bicycling adventurer! Have you checked them out? Combine all or some of these to pack all the gear you need. These storage bags give you options for your next (or first!) overnight bicycle adventure, so you're prepared with the essentials for a day trip, or for your daily commute. Pictured here on the Surly Straggler, you can see that there's all kinds of room to store your gear.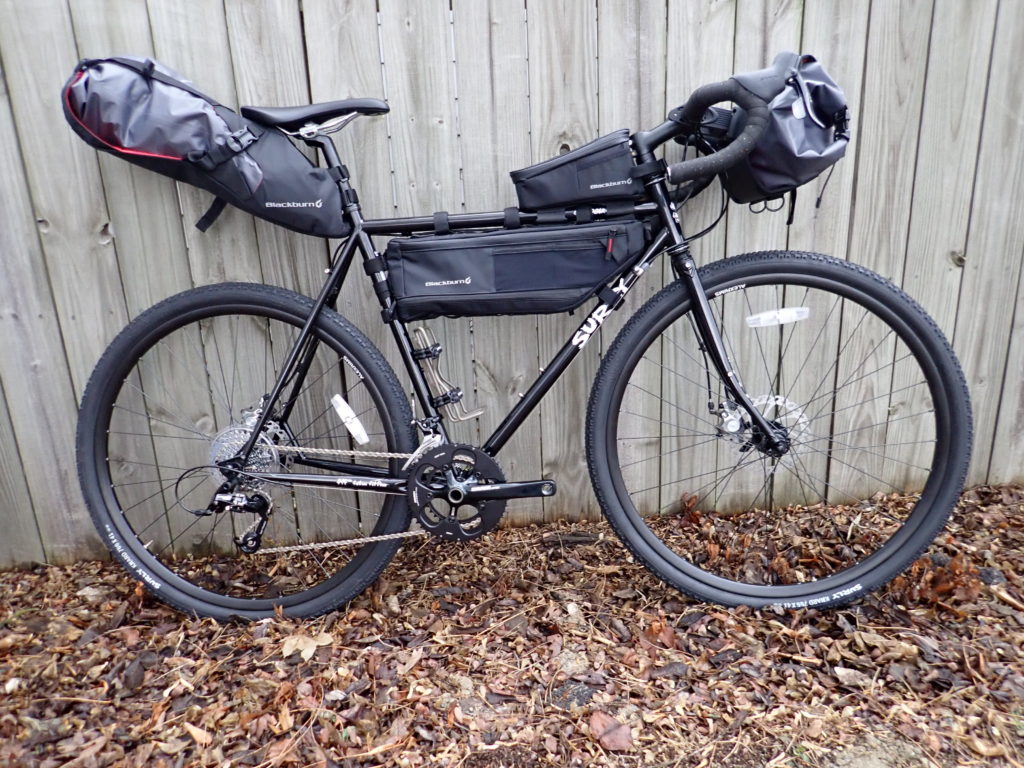 These travel essentials have many features that add value to your ride.
Each bag is either water resistant or waterproof. The bags are fitted meaning that they have an adjustable mounting system to fit any bike. Not to mention, Blackburn designs bags that make sense for cyclists. Make the most of the space available on any bike plus enjoy zippers and pockets that are in all the right places for easy access to your essentials. Some bags are even expandable to accommodate more or less space as you need it. There's also a great cargo cage that you can put almost any sized beverage container in or use for a small stuff sack. Another awesome feature of these products is the lifetime warranty through the manufacturer.
Below is a quick rundown for each of these featured products straight from Blackburn designs. Learn even more by reading descriptions about each bag type below before you buy! Know which bag(s) you need so you can be packed up tight with everything for your next riding adventure.
Outpost Top Tube Bag

"Easy access to your essential riding gear. A high end top tube bag that works great for the expedition cyclist, but also serves the needs of a long weekend ride or event."

    
Outpost Frame Bag

"A perfect bag for a week-long adventure or an all-day pleasure ride. An expandable bottom compartment accommodates more mission critical gear."

Outpost Handlebar Roll & Dry Bag

"Versatile handlebar harness and waterproof stuff bag. Perfect for overnight rides and can easily carry sleeping bags, tents, clothing … nearly anything you need."

Outpost Seat Pack

"A great alternative to panniers or a backpack. Ideal for mountain bike overnight trips, but also works will for commuting or long day trips."

Outpost Cargo Cage

"The perfect marriage of two classic Blackburn products…a cargo rack and a bottle cage in one. Perfect for a growler of microbrew, a bottle of stove fuel or even a two liter of Mountain Dew. Whatever you need to carry, the Outpost cage has you covered."

Blackburn is just one of the great cycling gear brands but note that a wide variety of bags are available. Check out these and other bags so you can make the right choice for your bike, for your style, and for all of your transport needs!